---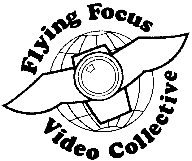 ---
Flying Focus Video Collective
August 2018 Newsletter
PMB 248 • 3439 NE Sandy Blvd • Portland, OR 97232
(503) 239-7456 • (503) 321-5051 • ffvc@flyingfocus.org</ p>
---
Why Portland Police Should Leave FBI Task Force
In April 2018, organizers of a campaign regarding Portland Police participation in the FBI-led Joint Terrorism Task Force (JTTF) held a forum at Maranatha Church. "Portland: Get Back Out of the Terror Task Force" (VB #107.9&10) features keynote speaker Michael German, a fellow at the Brennan Center for Justice. A former FBI agent, German blew the whistle on "deficiencies in FBI counterterrorism operations." His presentation included information about the low thresholds the FBI uses to open investigations, and how the FBI targets populations based on religion, ethnicity and race. Portland Police joined the local JTTF in 1997, but after years of community pressure were pulled out by City Council in 2005. They rejoined after an FBI sting led to the "holiday tree bombing plot" involving a fake explosive the government provided in 2010. (Flying Focus did an earlier show about the JTTF prior to 9/11: VB #40.11).
Also on the 2018 panel were Marleen Wallingford of the Portland JACL (Japanese American Citizens League), who likened the JTTF to the FBI's raids on the Japanese American community during World War II; Zakir Khan of the Oregon Council on American Islamic Relations, who spoke of community trauma caused by religious profiling; and Brandon Mayfield, a local attorney who was misidentified by the FBI as a suspect in the 2004 Spanish train bombing. Host Kimberly McCullough of the American Civil Liberties Union (ACLU) of Oregon provided background on the Task Force and the community's efforts to get out.
For more information check Portland Copwatch's website (www.portlandcopwatch.org/pjttf.html). The show is online at www.flyingfocus.org/JTTF2018_streamingpage.html.
A Joyous Celebration of Refugees and Immigrants
A recent Flying Focus program, "Portland Celebrates Refugees and Immigrants" (VB #107.5&6), is a welcome change from the recent onslaught of depressing and just plain bad news out of Washington DC. Featured are live performances from the inclusive Parks for New Portlanders program, Portlanders Stand with Refugees and Immigrants, at the East Portland Community Center in March, 2018. Part One includes lively music and dance by DJ Prashant and the Bollywood dancers, which is sure to bring a smile to your face and to set your feet tapping, as well as the first public reading of the play Only a Plastic Bag by Portlander Som Subedi about issues faced by newly arrived Muslim refugees. Part Two includes more Bollywood dancing, interviews with the cast of the play, and clips from the first Pan African Festival of Oregon, held at Pioneer Courthouse Square in August 2017, to bring people together to celebrate and reconnect with their roots.
Still Relevant: November 2016 Action Stands with Standing Rock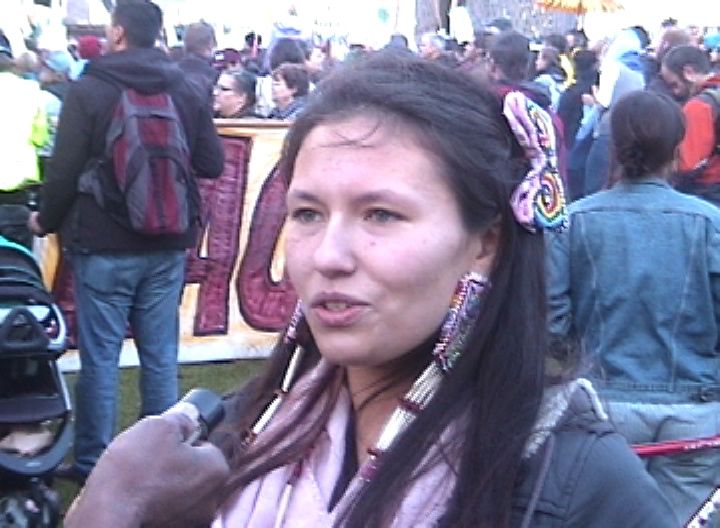 People all over the US protested the Dakota Access Pipeline (DAPL) being built near the lands of the Standing Rock Sioux tribe in N. Dakota. FFVC captured the views of speakers and participants at the Portland action on November 15, 2016, reflected in our show "Water is Life: Pipeline Protest 11/16" (VB #106.12). Although the DAPL was approved and completed under President Trump, the messages conveyed resonate in 2018. The Portland protest, held at the Army Corps of Engineers building followed by a march to Waterfront Park, featured a variety of voices explaining their reasons for standing up for indigenous peoples, protecting clean water and saving the earth. One of the most common words in the interviews: solidarity.
How Eating Meat Drives Climate Change
What you choose to eat has a greater impact on the environment than you may realize, especially if you eat meat. An April 2018 panel presentation sponsored by the Factory Farming Awareness Coalition shed light on what it takes to meet the American appetite for animal products. You can personally do something about it. You don't have to be vegan, just take on the challenge to reduce your meat consumption and you will be doing something positive for our environment.

Four panelists are featured on Flying Focus' two-part show "Factory Farming: The Climate-Diet Connection" (VB #107.13/108.1). They were Katie Cantrell of the Factory Farming Awareness Coalition, Neeraja Havaligi of the Greater Portland Sustainability Education Network, David Macek of Northwest Earth Institute, and Stephanie Feldstein from Center for Biological Diversity. Their presentations include statistics and other information you may not have heard anywhere else, such as how eating less meat can do more to stop global warming than taking thousands of cars off the road.
A Plan for Portland's Lower Albina
The Portland neighborhood known as Lower Albina is the site of a once-thriving African-American community. It was systematically replaced by the Memorial Coliseum, Legacy Emanuel Medical Center, the expansions of Interstate Ave. / I-5, and the maze of roads, parking garages, and arena called the Rose Quarter.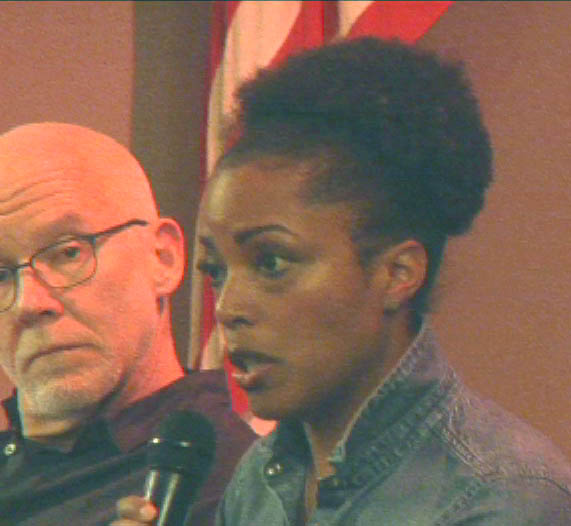 Rukaiyah Adams

A couple of years ago, then-Mayor Hales asked a group of about 20 volunteers to create a plan to fix the area and right the wrongs to the African-American community. "Is This the Community's Vision for Lower Albina?" (VB #106.8&9) covers a presentation in October, 2017 by Rukaiyah Adams and Zari Santner, who worked on that plan, as well as Ron Herndon of Albina Head Start who shared his vision for affordable housing. Both plans are aimed at growing Portland more affordably and bringing displaced citizens back to the area they consider home. The panel is hosted by Randy Gragg of Bright Lights.

The discussion includes the history of the Rose Quarter as well as the national history of intentional and unintentional governmental manipulation of laws and lending practices that effectively kept African Americans from sharing in the American dream of middle class life and homeownership. The community must now decide how to proceed. Though some in the community have raised concerns, including that Lower Albina is close to I-5's toxic environment, our program includes the plan but not the critique.
America's Ongoing and Looming Foreign / Domestic Wars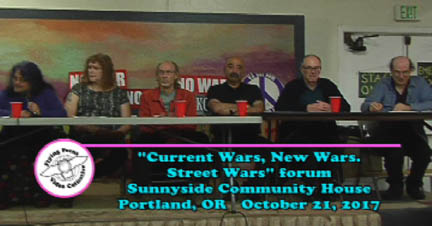 In October 2017, the Peace and Justice Works Iraq Affinity Group (IAG) hosted a forum at the Sunnyside Community House in Portland connecting America's ongoing wars (in Iraq, Syria, Afghanistan, Libya, Pakistan, Yemen and Somalia), the new threats of war (with Korea, Iran and Russia) and the rise of right wing extremism and violence in the streets at home. The panel features Dan Handelman of the IAG (who also produced this show for Flying Focus) covering the seven current wars, Martin Hart-Landsberg of the Korea Policy Institute, Goudarz Eghtedari of the American Iranian Friendship Council, local activist John Hryciuk (looking at Russia), and Theresa Mitchell of KBOO's Presswatch talking about the street wars, including police violence. Host Ani Haines (also from KBOO) introduces and closes out the two-part episode. Video for "Current Wars, New Wars, Street Wars-10/17" (VB #106.4&5) was captured by PC Peri. It can be watched online at www.flyingfocus.org /CurNewStWars_streamingpage.html.
Promoting Social Justice Through Faith
In February 2018, President Obama's Faith Advisor Joshua Dubois spoke at Augustana Lutheran Church in Portland. Dubois is the author of The President's Devotional: The Daily Readings that Inspired President Obama. He is a CNN contributor, CEO of a leading consulting company, and one of the country's top voices on community partnerships and issues related to race and religion. Called the President's "Pastor-in-Chief" by TIME Magazine, Dubois led the Office of Faith-based and Neighborhood Partnerships in Obama's first term.

Also attending was Pastor Kip Banks of the E. Washington Heights Baptist Church in Washington, DC. Portland Pastor Mark Knutson served as host and interviewer. Rev. Dr. LeRoy Haynes, Jr. gave an invocation, and Pastor Knutson's wife Tamrah welcomed everyone to the event.

Topics discussed in "Faith and Justice" (VB #107.1&2) include the mass shooting in Sandy Hook, how to "go high when they go low," evangelicals, justice and faith. Musical accompaniment was provided by the amazing Marilyn Keller and the Augustana Jazz Quartet. This show seeks to highlight the intersection between social change and religion.
Portland City Council Acknowledges Flying Focus... Be Part of the Action!
On February 14, City Council declared "Producer Day" in Portland acknowledging contributions of people working at Open Signal/Portland Community Media, where our group has been producing shows since 1991. Only a few specific groups were mentioned in the proclamation, including Flying Focus! A copy is at www.flyingfocus.org/OSPCM_proclamation.pdf .

When we asked for informal thoughts about legal matters, a lawyer and longtime supporter of Flying Focus said we've done such good and consistent work getting out information, that makes us a valid news source. If you want to see more important information similar to the shows listed in this newsletter, please donate to our ongoing work! With a budget that's hovered around $5000 a year since we started, we've made nearly 1000 shows giving voice to the voiceless. We have video on our three YouTube channels (for clips: FlyingFocus, full episodes are at FlyingFocusShows and FlyingFocusRetrospectives or http://tx0.org/k8 ). While we still have free speech and (allegedly) freedom of the press in this country, you can be part of the action with a donation by check/money order or through the donation tab on our website via Network for Good. Thank you!
---
FFVC Lending Library Temporarily Houseless
On June 30, In Other Words community space shut down, leaving Flying Focus without a lending library space for the first time since 1994 (!). If you can help us find a new location to house our DVDs so people can borrow them, let us know.

---
---