---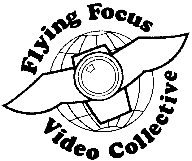 ---
Flying Focus Video Collective
February 2017 Newsletter
PMB 248 • 3439 NE Sandy Bv • Portland, OR 97232
(503) 239-7456 • (503) 321-5051 • ffvc@flyingfocus.org</ p>
---
Effects of Abrupt Climate Change
Dr. Guy McPherson is an award-winning professor of conservation biology and an acclaimed if controversial author. "The End of the World as We Know It" (VB #101.3&4), covers his presentation at The Waypost in Portland on August 8 summarizing the current peer-reviewed research on Earth's recent phase of rapid warming. His conclusion about the risk to humans due to abrupt climate change from habitat loss in the next 10 - 15 years is dire. He answers questions from the audience about the impact of humans on the planet. This show was taped by PC Peri and produced/edited by Barb Greene with help from Dan Handelman. Special thanks to Alisa Christensen for her inspiration on editing. This is an information-packed, entertaining and impactful talk. Not for the faint of heart!
This show is available on line at www.flyingfocus.org/McPherson_streamingpage.html. Within a week it became FFVC?s most-watched full-length streaming show of all time. At the time this newsletter went to press, it had over 5500 cumulative views.
Portlanders Speak Out for Animals
In "Living with Compassion" (VB #100.5), individuals at a protest outside of Patagonia Outdoor Clothing Store in May 2016 describe ways that company can fulfill its promise to do no harm to animals or the environment. They answer questions about alternatives to leather, wool and down, and how they came to be outside the NW Portland business. One demonstrator also explains her connection to the animal rights movement, which began with wanting to free the zoo elephants. Though not necessarily part of an organization, the participants got information from the Portland Animal Welfare Advocates at meetup.com and the Portland Animal Rights Activism Facebook page. This show was taped by PC Peri with interviewer Aiden Samuel-John, and produced/edited by Barb Greene with help from Dan Handelman. Streaming
Political Prisoner Book Release Inspires Activism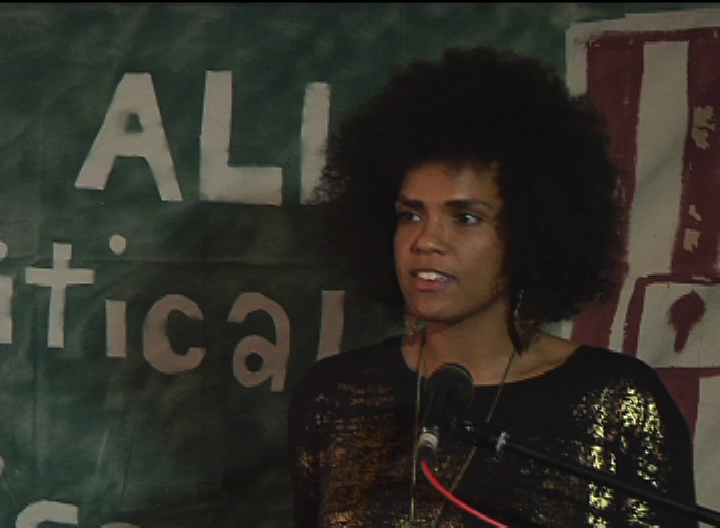 On March 10, at a Portland event for the book release of Fade to Black by Political Prisoner Jalil Muntaqim, participants addressed various racist and oppressive policies and practices of the US criminal justice system. Speakers and performers at the event seen in part one of "Prisoners' Advice: Dedicate Your Life" (VB #101.1&2) include spoken word artist Blacque Butterfly, educator/writer Walidah Imarisha, hip hop artist Talilo Marfil and All African People's Revolutionary Party member Ahjamu Umi. In part two we hear from Kent Ford-- former Black Panther and father of political prisoner Patrice Lumumba Ford, hip hop jazz artist Libretto (recently released from prison himself), Chauncey Peltier--the son of famous political prisoner Leonard Peltier, and hip hop/spoken word artist Mic Crenshaw.
The event was held at the Social Justice Action Center. It was video-recorded, produced and edited by PC Peri with assistance from April Adams and Dan Handelman.
"Oftentimes when we talk about people in the struggle, we're like 'we live for the revolution, we die for the revoliution, that's it!' I think it's important to recognize that how we love each other is also revolutionary."-- Walidah Imarisha
Celebrating 25 Years of the Flying Focus Video Bus
We headed back into the studio to produce Flying Focus' "Twenty-Fifth Busiversary" (VB #101.7&8), where volunteers came out from behind the cameras to look at the 2015/2016 season of "video as a tool for social change." The first part opens with a 6.5 minute look back at our first 24 years, featuring clips of some 50 shows to help celebrate reaching 25 years since the Video Bus premiered on November 18, 1991. Then four producers and an interviewer talk about the 14 shows produced over the previous year.

In part one there's a look into foreign affairs in two shows about Viet Nam and one about the US? 25-year war on Iraq, an animal rights protest at Patagonia, a photography show featuring Black Portlanders, and an event focusing on prisoners' rights. In part two, after shows about the globalization of Israel's occupation of Palestine and the 14-year anniversary of the Afghan invasion, five shows touch on the issue of climate change. They include ones featuring solar power, environmental powerhouse Erin Brockovich, Dr. Guy McPherson, and the influence of the American Legislative Exchange Council (ALEC) on climate issues. A clip of author Paul Engler reminds people that non-violent movements have led to major changes in the world.
Are the 1% Caring for the Environment?
"Mitigating Climate Change" (VB #101.11&12), covers economist Michael Toman's April talk at Portland State University about the need for technology breakthroughs and emissions reductions in order to deal with climate change. Toman is the Lead Economist for Climate Change in the Development Research Group and Manager of the Energy and Environment Team at the World Bank. His research interests include alternative energy, policies for responding to risks of climate change catastrophes, investments for greenhouse gas reduction and mitigating climate change by reducing deforestation. His talk was hosted by the PSU Institute for Economics and the Environment and sponsored by the Institute for Sustainable Solutions and the Department of Economics. This show was taped by Xavier Smith with assistance from PC Peri and produced by Barb Greene. An interesting look at how climate change is viewed by the powers that be.
Journalist and Teen Essay Winners on Climate Change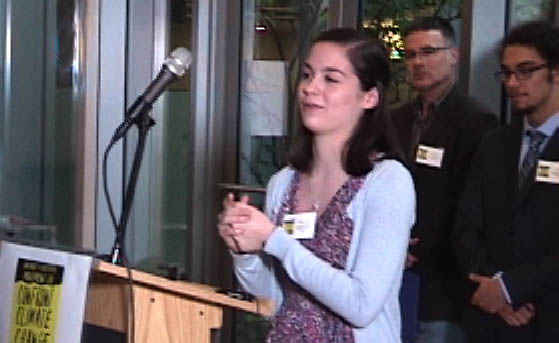 At the awards ceremony for the (Del) Greenfield Peace Writing Contest on April 29, three high school students presented their winning essays, and journalist Dahr Jamail spoke about the drastic effects of climate change. Nitan Avivi, Caroline Friesen and Kaylor MacLaughlin answered the question "How Would a Successful Movement to Confront Climate Change Help Create A More Just an Peaceful World?" Jamail talked about the degradation of the world's glaciers and coral reefs. Host Patrick O'Herron, of Oregon Physicians for Social Responsibility, also weighed in on the issues. Audience questions included whether the students' friends also were concerned about the environment and how directly connected climate change is to war.
The show featuring this event, "Youth, Climate Change and Dahr Jamail" (VB #100.1&2) was produced by Dan Handelman. We hope you are able to hear the important information despite the imperfect audio recording. These students are very inspiring-- please stick with it!
Author/Activist Urges Peaceful Change
Paul Engler is a self-styled organizing nerd, raised in the Catholic tradition of beloved community. He has studied and practiced community organizing and nonviolent action for many years and wrote a book about it with his brother. In "Change the World through Peaceful Uprising" (VB #100.7&8), he describes different styles of organizing and how they can be used for maximum impact. Engler is an engaging speaker with an important and encouraging message. Engler's talk was given at Annie Bloom's Books in Portland on May 3, 2016. It was taped by Flying Focus field coordinator PC Peri and edited/produced by Barb Greene with help from Dan Handelman. If you are into working for positive change, you don't want to miss this one!
Veteran Reports on Return to Viet Nam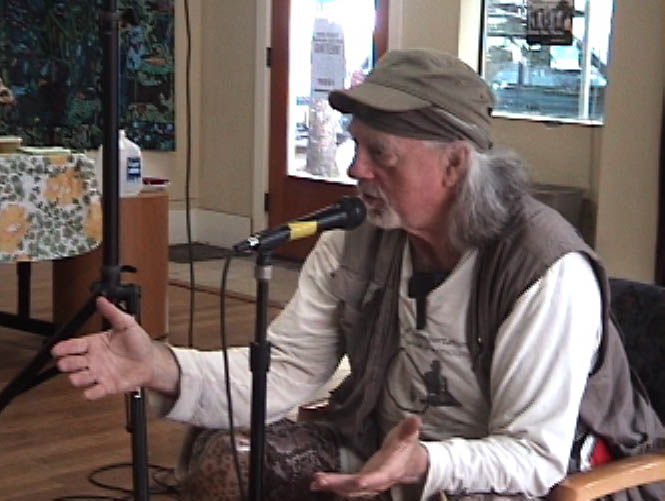 In July, 2016, famous Air Force veteran/anti-imperialist activist S. Brian Willson described how his trip to Viet Nam two months earlier was his first "voluntary" return to that country. On our show "Brian Willson: Viet Nam Revisited" (VB 100.10&11), he gives a history of western and US involvement in Viet Nam and talks about the meaningful experiences of his visit, including his ability to apologize for his role in bombing the country in the 1960s. Willson notes changes, including what he describes as "westernization," as well as long-term effects of the war, such as birth defects and other health issues caused by chemicals used by American troops. Willson is the author of Blood on the Tracks.
He was joined in Viet Nam and at this presentation in Portland by Becky Luening of the Viet Nam Friendship Village and Mike Hastie, another Viet Nam veteran. They contribute their observations, with Hastie relating his emotional visit to the site of the My Lai massacre.
25 Years & Needed Now More than Ever!
Flying Focus has been celebrating its 25th anniversary all year. We were recognized in Willamette Week (looking back at our coverage of protests against President George HW Bush in 1991) and by Portland Community Media, our home for production and cablecasting for all this time. We started a new YouTube channel to house all our Retrospective shows, meaning soon the world will have access to clips from nearly all 750+ episodes of the Flying Focus Video Bus ever produced (see http://www.flyingfocus.org/25years.html). In 2016, we responded to orders to stream 14 episodes, making shows on Palestine, peace, and climate (including Erin Brockovich in Portland) available on line as well. We've continued to cover issues sidelined by corporate media, and given the outlook for the incoming administration's position on these issues, we're needed now more than ever.

We encourage you to donate to Flying Focus, whether it's for a DVD of one of our shows, streaming rights (which makes the show available to anyone for free once your initial donation of $75 comes in-- $125 for larger institutions), equipment, or funds. Donations which don't result in you getting anything tangible in return (when you don't request a DVD) can be made via our donation site at Network for Good or by check or money order. While there are many other people covering these topics locally and globally, few have the track record we do. Thanks to all of our supporters for helping us to get the information out!
---
---