Flying Focus Video Collective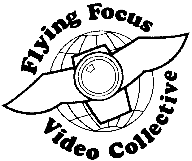 ---

•

•

•

•

•

•

•

---
Short Clips • Full Length Shows • Full Retrospective Shows
---
Flying Focus Video Full Shows Main Streaming Page
Check here for full length Flying Focus Videos available for streaming..
High speed connections are highly recommended.
Check Flying Focus' YouTube channel for full length programs at https//youtube.com/FlyingFocusShows
Also see our video clips pages for short excerpts from some shows.
Current topics are:

Page 1 (this page)
Animal Rights


Living with Compassion
Individuals at a protest outside of Patagonia Outdoor Clothing Store in May 2016 describe ways that company can fulfill its promise to do no harm to animals or the environment. They answer questions about alternatives to leather, wool and down, and how they came to be outside the NW Portland business.

[Catalog listing] [Info from newsletter] [Back to top]

The Elephant in the Room
Concerned citizens urge Metro to end the suffering of elephants in the Portland Zoo by using money authorized in a voter-approved bond measure to build a sanctuary for the elephants.

Economic Justice


Women Surviving Homelessness
Author Desiree Hellegers and six formerly homeless narrator-activists spoke at the moving book release event for "No Room of Her Own: Women's Stories of Homelessness, Life, Death and Resistance" in April, 2012.

Environmental Justice

Foreign Affairs/Middle East

Health Care Alternatives


Multicultural Issues/Indigenous People


Watch here for more Flying Focus streaming videos!
If you see a title you want to upload, streaming rights can be obtained for a donation of
$75 per program (individuals/nonprofits) or
$125 (larger institutions).

[Back to top]
Page added 1/17/13, last updated 4/5/19
The Flying Focus Video Collective
3439 NE Sandy Blvd, PMB#248
Portland, OR 97232
(503) 321-5051 Voicemail
(503) 239-7456 Office
ffvc@flyingfocus.org
http://www.flyingfocus.org
---
Short Clips • Full Length Shows • Full Retrospective Shows
---

•

•

•

•

•

•

•

---