---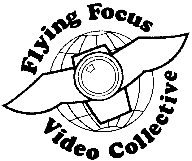 ---
Flying Focus Video Collective
August 2013 Newsletter
PMB 248 • 3439 NE Sandy Bv • Portland, OR 97232
(503) 239-7456 • (503) 321-5051 • ffvc@flyingfocus.org
---
Rejecting the New Jim Crow System
Civil rights lawyer Michelle Alexander is the author of The New Jim Crow: Mass Incarceration in the Age of Colorblindness. Ms, Alexander spoke to a packed auditorium at Emmanuel Temple Church on January 16 about her controversial analysis that in spite of the progress made during the civil rights movement of the 1960's, the United States has managed to create a separate social and economic class for African Americans through systematically and purposefully incarcerating young black men. Their criminal records then allow society to deny them civil rights due to their status as felons. Whereas laws explicitly targeted black Americans in the 50s, the "New Jim Crow" laws work far more subtly to the same end. Alexander is a passionate and engaging speaker, and this talk, featured on "Overthrow the New Jim Crow" (VB #87.1&2) is not to be missed.

--Clip--
Author Examines Similarities in FBI Stings
In January 2013, while the trial of alleged "Holiday Tree" bomber Mohamed Mohamud was in progress, Portland hosted Trevor Aaronson, author of The Terror Factory: Inside the FBI's Manufactured War on Terrorism. Aaronson spoke about how Mohamud's case, which involved informants, an easily manipulated "suspect" (who happened to be Muslim) and a missing recording were not unique to Portland's "terror" plot. Aaronson discussed how many of the people hired by the FBI as informants are worse criminals than the people they were busy tricking into elaborate phony bomb plots. His research began with a lengthy article in Mother Jones magazine analyzing roughly 500 incidents of supposed terrorist plots in the US showing that hundreds had elements similar to Mohamud's.

Aaronson's talk, including audience questions, is featured on "Trevor Aaronson: Manufacturing Terrorism" (VB #86.10&11).

--Clip--
Challenges of African American Dads
At the April 2012 meeting of the Restorative Action Project, three African American men discussed issues faced by black men in our society. They talked about how African American men are kept from their families by the foster care system, how difficult it is for them to find work in Portland, the need for mentors and culturally competent programs, plus other issues. It was clear from their discussion that African American dads have an uphill road today and there is a great need for allies and support from all genders and races. This discussion was covered in the program "African American Dads" (Restorative Action Project #3, VB #s 86.6&7).
Risking Freedom for Peace
""Putting It All on the Line for Peace" (VB #87.13&88.1) features Rosalie Riegle, peace activist and oral historian, speaking at the First Unitarian Church in Portland on May 1, 2013. Ms Riegle is the author of several books which are the result of her listening to other activists' stories. Voices from the Catholic Worker developed out of working with homeless women for 10 years at a House of Hospitality in Saginaw, Michigan. Crossing the Line relates the long and noble history of peace activism going back to World War I. Doing Time for Peace consists of interviews with people who went to jail for their beliefs and their families who stayed behind. Riegle shared some of these stories with the audience in her inspiring talk. These are stories that you won't see on mainstream television.

--Clip--
---
"This counter-revolution occurred with barely a whimper of protest even as millions of people have been rounded up, locked in cages, and then stripped of the very civil and human rights that Dr. King and so many others gave their lives for."
--Michelle Alexander in "Overthrow the New Jim Crow" (VB #87.1&2).
---
Death Penalty Panel Examines Factors of Race and Mental Illness
A February 2013 panel at Portland Community College on the death penalty makes up the two-part Video Bus episode "Race, Mental Illness and the Death Penalty" (VB #87.5&6). Capitol Defense Attorney Jeff Ellis, political science professor Dr. Michael Sonnleitner and forensic psychologist Michelle Guyton conduct a wide ranging discussion of the death penalty, focusing on the overrepresentation of the poor, people with mental illness and people of color on death row. Ellis discusses the factors that result in the imposition of the death penalty on those inmates who clearly display mental disorders, and how the system is stacked against this most vulnerable of prison populations. He also discusses multiple studies which prove that race is an important factor in the decisions that juries make regarding who lives and who dies.


Dr. Sonnleitner broadens the discussion with a basic question about why the United States has the largest percentage of its population in prison of all countries in the world. He suggests this is the result of four main factors: a culture based on fear, the war on drugs, the economic downturn, and the pernicious effects of racism. Guyton adds more insight into the issue of people with mental illness being sentenced to death.

--Clip--
Jeff Ellis, Michele Guyton and Michael Sonnleitner discuss "Race, Mental Illness and the Death Penalty"
Poets, Dancers, Drummers and Hiroshima Day 2012
The 2012 Portland Hiroshima Day commemoration featured information, poetry, music and dance. Much of the program can be seen in Flying Focus' show "Out of the Shadows: Hiroshima Day 2012" (VB #87.9&10). The title of the show (and the event) refers to the ghostly images left behind when human beings were obliterated by American-made nuclear blasts on Hiroshima and Nagasaki, Japan in 1945, leaving only body prints in concrete. Hosted by the eloquent and lyrical Ronault "Polo" Catalani, other speakers and performers included: Place of Our Ancestors, of the Confederated Tribes of Grand Ronde (drumming); soprano and Grant High School Graduate Alexandra "Saori" Erickson; a traditional Japanese Youth Dance directed by Sahomi Tachibana; winner of the 2012 Oregon Physicians for Social Responsibility (PSR) Greenfield Peace Writing Contest Ailish Duff; Performance Artist Chisao Hata; and the keynote talk by Kathleen Flenniken, Poet Laureate of Washington State. Rounding out the day was a staff person from Oregon PSR, Sean Tenney, who described actions people can take to end the threats posed by nuclear power and nuclear weapons.
---
Our overburdened fathers
dragged home to fix a drink,
And some of them grew sick.
Carolyn, your father's marrow
testified.
-Kathleen Flenniken, from her poem "Bedroom Community," as read in "Out of the Shadows: Hiroshima Day 2012" (VB #87.9&10)
---
Digital Editing Underway- More Support Welcome!
In early 2013, we received a small grant from Mt. Hood Cable Regulatory Commission through funds provided by the cable companies to help integrate our new computer into our office and begin editing programs.

The first digital program created on our computer is set to air in late August (a show about housing discrimination). To complete the transition into the 21st century we continue to seek donations for peripherals such as back-up hard drives, connectors and blank DVDs. We also continue to look for one or more people to act as "patrons" for one year of programming by donating up to $175 to cover 12 monthsÕ worth of archival videotape (DVCAM-124s). Can you help?

We welcome your support via donations of supplies (see our wish list at www.flyingfocus.org), volunteer time and funds. DVD orders still need to be done by check or money order, while outright donations can be made online at Network for Good, if you feel comfortable conducting business online.

The results of our February poll asking people "how do you consume video these days" led us to believe that most people no longer use VHS, some people prefer computer/streaming video, but everyone who responded still uses DVDs. Thanks for helping out. We will probably ask for your input again in a short while since technology changes so quickly.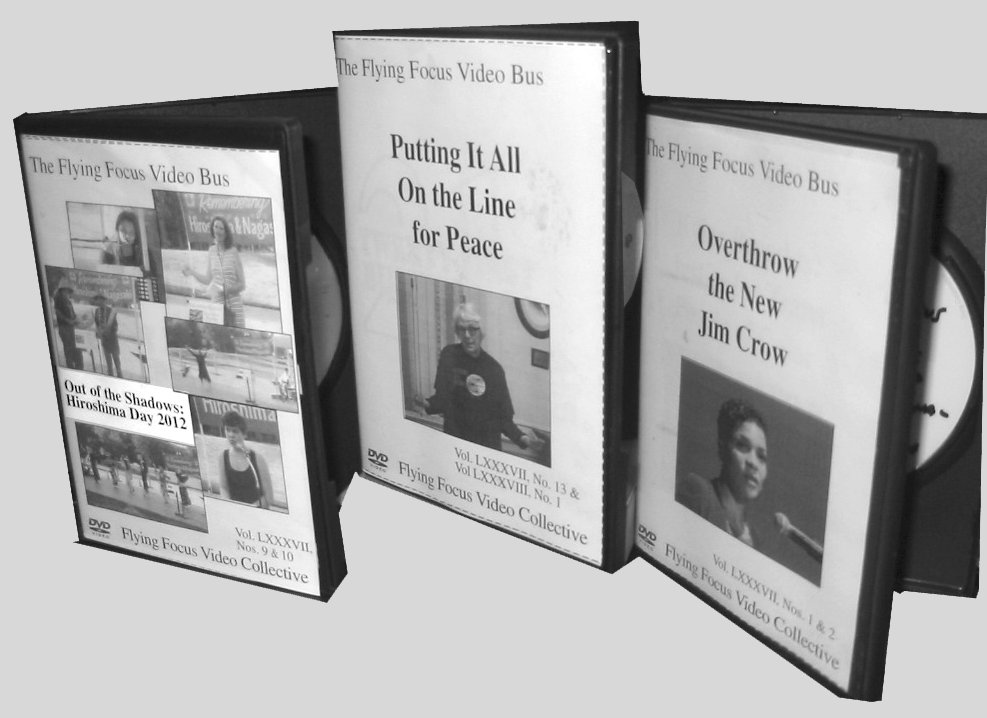 ---
---