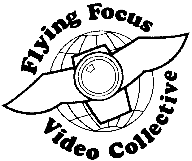 Flying Focus Video Collective

June 2000 Newsletter
http://www.rdrop.com/~ffvc
---
FFVC Releases WTO Protest Video
By Kyle Yamada
Seattle. How quickly the word has become the rallying cry for the gamut of progressive causes from labor rights to environmental protection. When 50,000 protesters crowded the streets of Seattle on November 30, 1999 to denounce the World Trade Organization (WTO) ministerials, Flying Focus was there. Armed only with a sign reading "Wage Trampling Oligarchy" and my dad's Hi8 camcorder, I set out to conduct numerous interviews with protesters in the streets and record the day's events.
The result was a pair of stinging eyes and our most popular program to date. In addition to the regular PCA broadcast, the half-hour Protest in Seattle: Resisting the WTO (VB #34.4) has reached viewers in the windy city via broadcast on Chicago Cable Access and engaged audiences in Eugene through a special screening at the University of Oregon. The program has won recognition at the Mid Oregon Production Arts Network's 2000 short film screening and has been requested by libraries at Reed College, Linfield College and Willamette University, to name a few. (Multnomah County Libraries alone ordered nine copies!).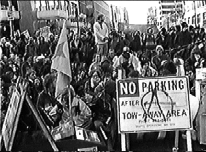 So enough bragging-what's this show all about? Protest in Seattle documents two key days (Nov. 30 and Dec. 2) of the tumultuous week-long demonstrations. The program weaves highlights from the organized labor march, Food and Agriculture Day and the sit-in at King County Jail together with numerous interviews, instances of police aggression and a foray into the constitutionally dubious "no-protest" zone. In short, it gives a quick, cogent overview of the major events and issues at stake in Seattle.
Most significantly, I took special pains to represent the diversity of opinion among the activists in Seattle. Although the importance of solidarity became amply clear in the face of police provocation, it was no reason to paint the demonstrators as one monolithic force bent on a single objective. By giving individuals the chance to speak for themselves, Protest in Seattle offers a perspective on the demonstrations that was largely absent from the mainstream media.
Sister Helen Prejean on the Death Penalty
"The mandate and the mission is formed when we have witnessed something that we know is an injustice..."
--Sister Helen Prejean
Sister Helen Prejean has worked for social justice and the elimination of the death penalty in the United States for nearly twenty years. In a February 2000 lecture in Portland, Sister Prejean shared her experiences working in the St. Thomas Housing Project in New Orleans, witnessing the poverty, lack of education, drugs, police brutality and institutionalized racism that affect so many of the people who end up on Death Row. In 1982 she visited death row inmates at Louisiana State Penitentiary. Her experiences led to the writing of Dead Man Walking, the book that is the basis of the Academy Award-winning film.
In Helen Prejean on the Death Penalty (VB #34.13 & 35.1) she exposes the class and race-based inequalities of our justice system that reserves its harshest penalties for the most disadvantaged members of our society. She points out the startling inadequacy of legal representation, and how racism and poverty have resulted in innocent people being sent to Death Row. She tells of the anguish and isolation of victims' families, and argues that we must do more to support victims of violence, help them heal through the example of forgiveness, and reject the false closure of State-sanctioned killing. Hers is a powerful message of choosing redemption over vengeance.
Sacred Wombs
For hundreds of years, women and their bodies have been forcibly controlled by the patriarchal medical system. In Sacred Wombs (VB #34.1), two midwives conducted a workshop at the 1999 End Corporate Dominance Conference in Portland. They discussed abortion and the lack of options for pregnant women before Roe vs. Wade, alternatives to hospital births, and other reproductive issues. The program includes a slide show comparing the treatment of women's bodies to the treatment of the earth and a short video of a water birth.
1999 End Corporate Dominance Conference
Three other programs were produced in the past six months from the 1999 End Corporate Dominance Conference. In People Power vs Corporate Power (VB #35.3), Ronnie Dugger, a keynote speaker and co-chair of the Alliance for Democracy, gives a broad overview of the devastation caused by corporate dominance.
In 50+ Years is Way Too Much (VB #35.8), Njoke Njehu, another keynote speaker and Director of 50 Years is Enough, equates corporationsí international expansion with colonialism (continued from front page) and describes the harmful effects it has had on many countries including those in Africa where she grew up.
In Mergers, Monopoly and Anti-Trust (VB #34.10&11), the editor of a website tracking mega-mergers explains who is working to oppose conglomeration, and notes that the rate of consolidation has only increased under the present Presidential administration.
"Diamonds, Guns and Rice"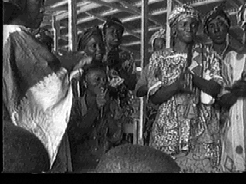 Flying Focus member Caley Haaken-Heymann recently co-produced, along with Jan Haaken, a video documentary on the Sierra Leonean Civil War which aired on Tualatin Valley Community Access in late May. Diamonds, Guns and Rice: Sierra Leone and the Women's Peace Movement tells the story of the Civil War through the eyes of refugee women. Caley and Jan were in West Africa last summer where they were able to interview and videotape women in refugee camps along the border of Sierra Leone. When they returned, Caley and Jan began work on the video project, consulting with Sierra Leonean refugee and peace organizations in the process.
Produced through Tualatin Valley Community Access, the 58-minute video combines interviews, war footage, music, poetry, and scenes portraying the vitality of the Sierra Leonean people and culture. Testimonials of refugee women capture the dramatic horror of the Civil War and its devastating impact on women and children. But women are also cast as actively engaged in analyzing the causes of the war and in mobilizing for peace. In addition to exploring the role of the global economy in the war that erupted in 1991, Diamonds, Guns and Rice tells the story of the Sierra Leone Women's Peace Movement, an organization formed in Freetown in 1996. Throughout the video, women's personal stories are interwoven with analysis of the war and discussion of the peace process.
An earlier half-hour video addressing the same topic, Witness for Justice: Sierra Leone (VB #34.6), played on the Flying Focus Video Bus in January.
Shows Focus on U.S. Policy in Iraq
Three tapes produced recently by Flying Focus feature information about the situation in Iraq, but each one has a very different focus. In the first, activist Philip Berrigan, famous for his civil disobedience actions against the Vietnam War, spoke in Portland in October 1999 about the military bombings of both Iraq and Yugoslavia. Berrigan outlined the various economic interests of the U.S. in each country, and left his audience with a message of hope for those who strive to make the world a better place. Watch Philip Berrigan: Peacemaking in a War-Torn World (VB #33.11) for the in-depth story.
The two other tapes feature seminars from a National Conference on Iraq Sanctions held in Ann Arbor, Michigan also in October '99. In the first, Getting Resolutions Passed (VB #34.8), panelists talk about their successful efforts to get local elected officials to speak out against the 9-year-old sanctions on Iraq. Students, teachers and activists describe how they got student governments, school boards and city councils from California and Michigan to support their resolutions. Gain insight into how things work when a Detroit City Council member explains how she and her colleagues voted on what some believe was the first resolution of its kind. This show should be of interest to activists working on any issue, for the tactics described on how to be effective with legislators is pretty much universal.
And in the third tape, Columbia University Professor Richard Garfield, who has been to Iraq a number of times, discusses the effects of the "oil-for-food" deal (Professor Richard Garfield: The Oil-for-Food Program [VB #35.6]). The program was designed to prevent the deterioration of the situation in Iraq--which by 1996, when the program was instituted, had been under the world's most comprehensive embargo for 6 years. As a result, Prof. Garfield notes a tremendous rise in infant mortality and diseases that were otherwise controllable in pre-war Iraq.
Portland Cable Access Channels Move!
For 9 years, the Flying Focus Video Bus has more or less run in the same time slots on the same channels. Due to AT&T's (no comment) decision to align all the cable channels for the region, these are the new channels, same old time.
Mondays, 8pm, Channel 22 AT&T PDX (was Ch. 27)
Wednesdays, 11pm, Channel 23 AT&T PDX (was Ch. 33)
Fridays, 9:30pm, Channel 11 Citywide (Cable Access Network).
We understand our programs may reach more homes. It is also possible that in the near future PCA will "webcast" programs, so those with access to computers that can "stream" video will be able to watch the Video Bus in real time on line.
Please Support Flying Focus
Many of our ongoing supporters recently received a fund-raising letter outlining reasons to donate to Flying Focus. We work hard to present the under-represented, involve and train volunteers, and be out in the community with camcorders. Your support is as important as this work. Remember that we're all volunteers and our annual budget is really small for a group producing video.
While two granting organizations have declined to fund a computer- based digital editing system for our group, we still hope our supporters can help move us forward in raising $2500 to $7500 to help us go digital and be independent of Cable Access. PCA has begun its transition to digital tapes and editing, so we will need all new tape. If you can't make a monetary donation, think about tapes or equipment, or let us know what you'd like to do as a volunteer. We can send you a volunteer questionnaire -- write us back or give us a call. Thanks for your support.