[FFVC Newsletters index] [FFVC Home Page]
---
February 2007 Newsletter
PMB 248 • 3439 NE Sandy Bv • Portland, OR 97232
(503) 239-7456 • (503) 321-5051 • ffvc@flyingfocus.org
---
Working for Peace in the Wake of Africa's Bloody Wars
Humanitarian crises continue in Africa either as a direct result of fighting or because of disease and malnutrition caused by wars. Two recent Video Bus programs present aspects of the various issues there.
"A Nonviolent Response to Genocide" (VB #61.3&4) covers a forum held at Portland State University in February 2005 with some very personal stories from people whose lives were devastated by acts of mass murder and still found ways to organize and educate others as a positive response to an unspeakable horror.

Dr. Elavie Ndura of Burundi speaking at PSU in
"A Nonviolent Response to Genocide" (VB #61.3 & 4)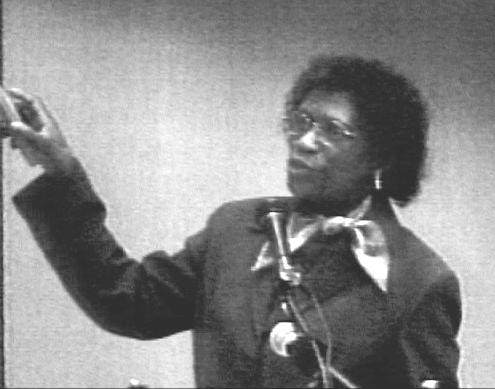 Dr. Elavie Ndura is a Hutu widow from Burundi, an African nation where she and her family experienced colonialism, exploitation and genocide. At the time of her talk she was a professor of Multicultural Education at the University of Nevada. She shared her personal experiences as well as the history of violence and what violence looks like. She asserted that societal violence is often caused by our failure to manage cultural diversity effectively and called upon everyone to become culturally competent.
Also on the panel were two refugees from Somalia, Kayse Jama and Sa'eed Haji, who spoke of their personal journeys from experiences with major violence to working for peace. This program is an inspiration to those who may sometimes wonder if peace is possible.
The second program is about Lisa Shannon, a local Portlander who was horrified at the magnitude of the violence in the Democratic Republic of the Congo and at the lack of media coverage. The violence there has been so bloody and widespread it has been called "Africa's World War," involving nine African nations as well as about 20 armed groups. An estimated 3.8 million were killed in the war and thousands are still dying every day in the aftermath. In part one, "The Chick Who Always Talks About Atrocities in the Congo at Parties" (VB #61.13), we see her speaking to community groups about a run for the women of the Congo who have lost many family members and have been subjected to rapes and other unspeakable acts of violence. In part two, "One Person Can Make a Big Difference" (VB #62.1), she gives a personal interview, revealing how an average citizen can create positive change. Africa has been called the forgotten continent, as mainstream media believes that Americans don't care about what happens there. In this show, Lisa Shannon proves them wrong. It is a compelling story, and Lisa is an inspiring speaker.
Bad Cop, No Donut; Good Cop, Let's Talk
Two recent programs featured police accountability issues. The first, "Stonewalled" (VB #60.7) featured a panel of activists from Amnesty International USA. At Amnesty's national conference held in Portland in April 2006, they discussed a report focusing on police abuses of gay, lesbian, bisexual, transgendered and queer people. The show includes horrifying examples of recent cases in which police used unreasonable force and were not held accountable for the violence.
In the second, "Community Dialogue on Racial Profiling" (VB #60.13 & 61.1), community activists, police, and citizens of Portland discussed their experiences with the practice of racial profiling at a community forum held in NE Portland in June, 2006. FFVC videographer PC Peri was able to capture an up-close view of numerous talking circles, each of which had at least one Bureau member sharing their thoughts with the community.

Media Literacy Presentation Gives ABCs of Watching CBS, NBC
Vanessa Hughes of the Northwest Media Literacy Center gives presentations to the public which examine how media creates a personal relationship with its viewers, how it affects our lives, and what tools people can use to challenge existing perceptions of media. Her presentation at Franklin High School in early 2006 is featured on "You Are What You Media" (VB #60.9), including basics on how to deconstruct advertising and read visual messages.
Valuing Animals
Jim Mason is an attorney who has championed the cause of animal rights for many years. He is well known for the books he has written on his own or with Peter Singer including An Unnatural Order: The Roots of Our Destruction and The Way We Eat: Why Our Food Choices Matter. In "Recognizing Animals' Intrinsic Value" (VB #61.11), he gives the keynote speech at the 2006 Animal Law Conference at Lewis & Clark Law School. In his talk he describes how people's dominion world view blocks our understanding and the importance of animals to the development of the human brain.
Four Ministers and a Rabbi Come Out Against the War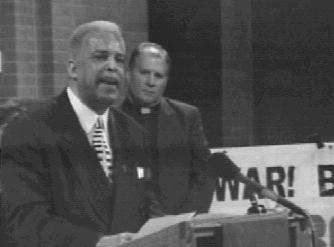 On March 1, 2006, five prominent members of Portland's communities of faith came together to advocate an end to the war on Iraq at a news conference, held on Ash Wednesday at the Augustana Lutheran Church. Ministers from Lutheran, Methodist Episcopal, Catholic, and United Church of Christ congregations joined with a rabbi from Congregation P'Nai Or to connect spiritual values to peace issues.
Their messages vary from quoting scripture to quoting Martin Luther King, Jr. to invoking the concept that all religious and spiritual faiths share basic principles that should compel people of conscience to oppose the U.S. occupation and war in Iraq. Dr. Leroy Haynes of Allen Temple passionately reminds us that the reasons given for going to war all turned out not to be true. Watch and listen to their powerful statements on "Portland Clerics for Peace" (VB #60.11).
Dr. Leroy Haynes of Allen Temple calling
for the Iraq war to end as Pastor Mark Knutson
of Augustana Lutheran Church looks on in
"Portland Clerics for Peace" (VB #60.11)
Flying Focus Celebrates 15 Years with Public Event, "Busiversary"
On November 18, our weekly series the Flying Focus Video Bus officially turned 15 years old. To celebrate, FFVC producer Dan Handelman edited together clips of the first fourteen years to kick off our annual retrospective, the "Busiversary."


We also held a public event at which we shared free food, good conversation, and a live cablecast of the 12th, 13th, 14th and the all-new "Fifteenth Busiversary" (VB #61.7&8). At least 40 people--old friends and new--attended the event at Portland Community Media, including a few who had seen the marathon playback showings of the old "Busiversaries" on cable access. One woman who had planned to stay only 15 minutes got "hooked" and watched all four hours!
In producing the show and preparing for the event, we found that at least 120 people have volunteered for Flying Focus over the years. The Video Bus has featured almost 500 original episodes (with a total of 750 weekly cablecasts), and at least 45 people have acted as producers of individual programs.
On the new "Busiversary" we featured six volunteer producers who created 17 new shows, a total of 23 new episodes since last December (six were shown in two parts). The "host segments" allow our members to speak about their experiences and why they put together their programs prior to showing short clips from each show.
Three of the shows focused on war and peace issues, particularly the invasion and occupation of Iraq, two were about analyzing the media, two were about human rights in Peru, while others showcased women's issues, police accountability, and environmental themes. (Many of these shows are also featured in this newsletter and the accompanying catalog insert).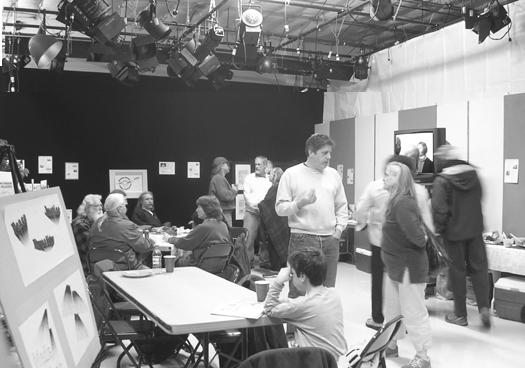 FFVC Members and guests enjoy
food, videos and conversation
at our 15th anniversary event
on November 11th.
Reaching this milestone was a good time for us to assess what it is that we have been able to contribute toward peace and social justice. Howard Zinn has pointed out that issues important to those who are not part of the ruling class are more often than not missing from the classroom curriculum. Also absent are works by activists and visionaries, and discussions of how cultures are impacted by economic exploitation.
By chronicling these issues and some of these visionaries on video, we are able to preserve an oral history which can be retold to young people and for everyone. Our archives (we hope) will mean that people will not be able to forget or ignore these issues not covered by mainstream, corporate media.
We have also been able to focus on reaching out to connect people with organizations and to be sure certain cultural groups and individuals can speak among themselves and to others. By retelling the gains and losses of common people, we continue to "voice the voiceless"--even if you think that phrase is a cliché, it continues to be our mission.
---
New! Watch Flying Focus Video clips on our website at www.flyingfocus.org/videoclips.html thanks to YouTube.com
---