Author, Poet, Activists, Musicians Remember Hiroshima and Nagasaki
The 2008 "Remembering Hiroshima and Nagasaki" event on August 6th, held in Portland's Japanese-American Historical Plaza at the Waterfront, featured two keynote speakers. Pamela Vergun, read from her book "A Dimly Burning Wick: Memoir from the Ruins of Hiroshima," relating a devastating account from a woman who survived the atomic blast there. Tom Carpenter, executive Director of Hanford Challenge, described similar horrors associated with the past and present of the plutonium facility just a few hours away from Portland on the Columbia River.

The event's highlights are included in the Flying Focus two-part "Hiroshima Day 2008: Remembering the Past to Change the Future" (VB #69.4&5). The shows also feature a personal note and prayer from Mikio Ohgushi of the Dharma Rain Zen Center, and a William Stafford poem read by award-winning poet Paulann Petersen. Each show also includes music from the Portland Taiko Drummers, and part 2 includes a song of peace from the Portland Gay Men's Chorus.

--Clip--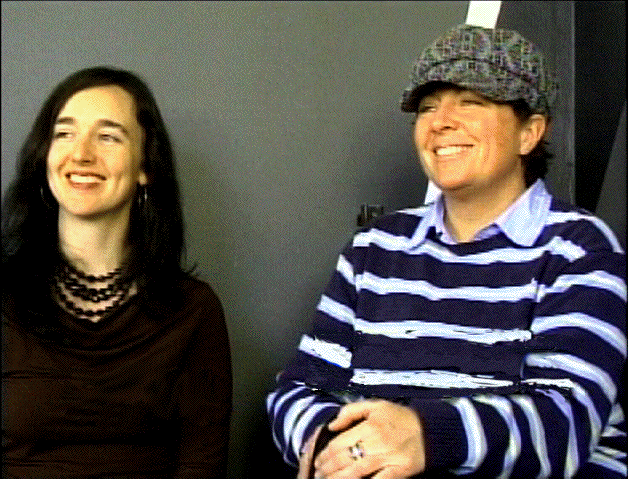 Not So Sweet Crude
Sweet crude is petroleum oil that comes out of the ground with low levels of sulfur and hydrogen, allowing for cheaper and easier refining. The sweet crude that comes from the Niger Delta accounts for about 10% of the US oil supply. So it probably will come as no surprise to Flying Focus viewers to hear that the documentary film by the same name is "about survival, corruption, greed and armed resistance," according to the website sweetcrudemovie.com.
In "About 'Sweet Crude'" (VB #68.7&8) Seattle-based director Sandy Cioffi and producer Tammi Sims discuss their film after showing a working copy at the 18th Annual Cascade Festival of African Films at Portland Community College in February, 2008. It is clear from the moving and highly informative discussion that both care deeply about the country and the people who live there. This is a subject about which Americans should be more informed, as many of the problems there are being caused by our high oil-consuming lifestyles.
Tammi Sims (L) and Sandi Cioffi (R) discuss their film, "Sweet Crude."
Flying Focus Highlights Another Year in the "17th Busiversary"
In November, Flying Focus celebrated our 17th year providing videos on social justice issues on cable access via our weekly show, the Video Bus. You can see what we worked on by watching the "Seventeenth Busiversary" (VB #69.8&9). On the show, seven people introduce clips from the 14 shows (made up of 24 half-hour episodes) they produced between November 2007 and October 2008. Those producers, along with Field Production Coordinator PC Peri, who taped 9 of the 14 shows featured, appear on screen to introduce short clips from these programs.

Topics include gentrification, US policy in the Middle East (Iraq, Iran, Israel/Palestine), civil liberties/Guantanamo, health care via vegetarian diets, a new trade deal known as "NAFTA with guns," empowering people with mental health issues, Native American perspectives on sustainability, corporate influence on the media, nuclear issues and concerns in Peru, Bolivia, Nigeria, the Congo, and other countries.

Some of the two-minute clips are up on the internet at www.flyingfocus.org/videoclips.html.
Panel Reveals How Corporate Media Really Works
In Minneapolis on June 6, 2008 at the National Conference for Media Reform, former corporate media insiders presented what they discovered while working for some of the largest media companies in the US. They shared how news decisions are made, if and how owners influence what gets covered or what does not, as well as why stories are overlooked. Ultimately, the panel's insight and experience shone some light on the problem of Big Media and its failure to cover issues that matter including why scrutiny of the media industry itself never takes place. The two part episode "Corporate Media Confidential" (VB #68.3&4) exposes the corporate wizards behind the media curtain. Panelists included Jeff Cohen of the Park Center for Independent Media and Catherine Crier of Cajole Entertainment.
Fund Your Local Media Activists
Flying Focus is not alone in feeling the pinch of the economic downturn--we know many of you are also tightening your belts. Now is as important a time as ever to present people with viable, peaceful alternatives to corporate and militaristic options being played out on the national and international stage. Please consider a contribution to Flying Focus, whether you order a DVD or want to support us with funds.
Some of the current costs we will be defraying include mailing to a recycling center several dozen 3/4" videotapes, a format which is nearly extinct. The demise of 3/4" is the key reason we are currently copying all of our 600 old programs to DV-CAM tape in our Digital Archiving Project (DAP). We also need contributions for the DAP to meet our matching funds requirement of the generous grant from Mt. Hood Cable Regulatory Commission for that project.
Cable Access Services in Jeopardy!
Flying Focus faces, for the first time in 18 years working at Community Access, the issue of "user fees" being imposed to produce our programs on equipment that is supposed to be free to the community in exchange for the cable company having access to the City's rights-of-way. We hope that you will join us in asking the Portland City Council to fund Portland Community Media (PCM) at a higher rate than they are proposing, while simultaneously reminding them that the mission of Public Access is to give the public access to the airwaves. Although the City rakes in roughly $5 million dollars per year in franchise fees, they are providing less than $900,000 to the budget of PCM, which also covers educational and government channels. Contact us for more information about how you can make a difference.
---
Sponsor a Video
As mentioned in the Gentrification article, your DVD order can be used to educate others.
Pick a DVD you would like to see at our lending libraries or for community groups
or other locations and let us know that you plan to donate it when you're done viewing it!
---